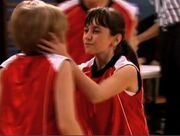 Max is one of Zack and Cody's friends, she is a girl who usually wears pigtails in Season 1 and is sometimes mistaken for a boy (a running gag throughout the series) for she is a tomboy. She once had a crush on Zack as shown in the episode "
Kisses & Basketball
", and goes on a date with him while showing her slightly girlie side but "
falls out of love
" with Zack when she finds out that he just did it to "take one for the team". Max is portrayed as a great dancer (as shown in the episodes "
Footloser
", "
Hotel Hangout
", and "
Club Twin
"), but can become extremely bossy at times ("
Footloser
"). Max has appeared in six episodes through 2 seasons.