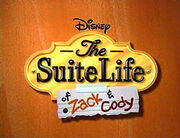 Here I Am is the song of the opening of The Suite Life of Zack & Cody, it has three versions, each for each season, the only difference is the content of the video.
Writers and Singers
Edit
Loren Ellis (singer)
The Drew Davis Band (music)
Here I am in your life,
Here you are in mine
Guess we have a suite life
Most of the time.
You and me
We've got the world to see,
So come on down.
Just me and you know what to do,
So come on down.
It's you and me, me and you,
We've got the whole place to ourselves.
You and me, we got it all for free
So come on down.
This is the suite life.
We've got a suite life.

In the Season 2 theme video, some of the pictures and videos shown are not from any episodes.