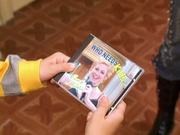 Carey Martin: Who Needs Kids is an album performed by Parallel Carey Martin. The album is only seen briefly for about 4 seconds and the only episode it is in is The Suite Smell of Excess. The CD is number 1 on the charts in the parallel universe. Parallel Arwin probably produced the album becuase he is Parallel Carey's manager.
the cover itself is quite novice. The cover of the CD displays a head shot of Carey singing in the Lobby. The text of the album is simple word art. There are 3 types of word art, and it is obvious that the text is made on Windows XP.
Track Listing
Edit
It is unknown what tracks are on the album but one of the songs is probably "Who Needs Kids". The album will never be mentioned again.